1
Demo objectives and target groups

"What do you want to achieve with the demo?"
For any demo event it is important to explicitly state clear objective(s) and key messages well in advance. They determine all the other decisions you will make during the preparation and the performance of the demo event: the set-up, which actors to involve, the evaluation of effectiveness.
Start by addressing the 'why' (why are we doing this demo) and then the 'what' (what do we want to demonstrate). From this demo objective subsequently follows the 'who' (the targeted audience for the demo) and the 'how' (the demo set-up and learning methods).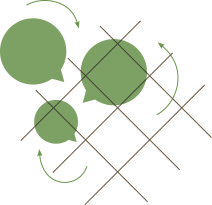 Demo events can act as meeting place for participants
WHY DO YOU WANT TO ORGANISE THE DEMO EVENT?
This specifies the motivation or need for the demo.
Possible targeted effects:
Knowledge co-creation. You can aim to create (new) knowledge, by profiting from the knowledge pool of the participants that attend the demo event.

Innovation adoption. Demos help the transfer of new opportunities, novelties or practical experience that can be used directly on farms. These innovations can emerge from research, business (related to product sales) or pioneer farmers and give farmers the confidence to make a grounded decision on the usefulness of the demonstrated practices or innovations for their own farm.

Problem solving. Demos are a useful platform to link extension to the needs of local farmers. You can demonstrate solutions to farmers' problems, for example related to reducing farm labour or how to grow crops in a changing climate, or you can validate conducted research and innovations under local conditions and tailor them to the farmers' needs.

Training. Demos serve as a platform for skills enhancement and capacity building, thus enabling practical implementation of innovative practices on the farm.

Building awareness. Demos can raise awareness on topics like for example social demands. Also, sustainability topics are often not addressed explicitly, but are often part of the demonstration to create awareness with the participants.

Networking. Demo events can act as meeting place for participants. Regular (e.g. yearly) demo events can be used as network event to gather all people involved in the programme, network or project. They can contribute to the strengthening and development of collaboration and boost possible partnership for cooperative problem solutions, both national and international. Also, the social aspect of networking, being able to meet other farmers, is very attractive to some participants.

Research implementation. On-farm demo events can act as a platform to transfer knowledge on applied research results to agricultural practice. Innovations and practices can be trialled, compared or validated in 'real' farm conditions.

Policy implementation. Demos are an opportunity to inform farmers on new legislation and policy regulations and to provide specific practices and examples on how they are able to implement them on their farms.


Take regional agricultural developments and challenges into account to attract farmers and to increase your impact.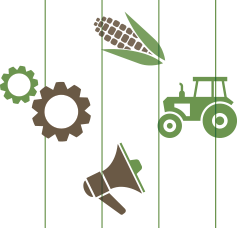 Demo topics can be the demonstration of a product, a machine, a process, management or marketing
WHAT DO YOU WANT TO DEMONSTRATE?
Demo topics can be very diverse, like for example the demonstration of a product, a machine, a process, management or marketing.
The characteristics of the topic demonstrated influence the demo set-up and which target groups can potentially be reached. Is it an innovation not at all known by the farming community with no real-life implementation examples? Is it already implemented by a minority of farmers?
Is it a widespread practice that could be optimised and refined by farmers? Often the strength of a demo event lies in its simplicity. It is therefore advisable to limit the number of topics addressed during one event. If you want to address multiple topics, you may consider organising a series of demo events or make sure sufficient time is planned for each individual topic.
The choice of the topic can be made top-down by the organisers, by farmer representatives, or by the project in which the demo is embedded, as well as bottom-up with farmer involvement, or by participants on a previous demo event when it involves a series of demo events. Either way, a thorough consideration or discussion beforehand is necessary to select an interesting, inspiring and relevant topic. Find here some inspiration from practice.
SERIES OF DEMO VS. ONE-OFF
An important choice in deciding on the set-up of a demo, depends on whether it will be a oneoff demo, a series of demos on the same topic, or a reoccurring (network) event organised by the same organisers.
Series of demos are sometimes mentioned as being more effective because:
Participants get to know and to trust each other (they will be less reluctant to share information).
Demos can address several steps in the adoption process (more targeted effects).
It allows to show evolution through time, seasonality.
You can reach more farmers and multiple stakeholder types.
Demos can rely on the good reputation of previous demos.
The organisation and set-up can be improved/enhanced.
WHO DO YOU TARGET?
The selection of the target group(s) depends on what you aim to achieve with the demo. For example, if intensive knowledge exchange or knowledge co-creation on a very specific topic is envisioned, you might choose to target a small group of farmers who "speak a similar language" to assure qualitative and intense interactions. Identifying pecific target groups will determine which information channels should be used to reach them.
The target group can be specified in relation to:
Specific sectors (e.g. dairy farmers, sugar beet producers)

A specific region (e.g. a specific province, nationwide, or international)

Their experience with a specific technique, e.g. novice or expert. Depending on the goal, organisers could opt for experienced farmers only (e.g. for improving a practice or innovation) or the combination of both (when you want exchange). 'Expert' farmers can help to start discussions during the demo event and encourage each other to ask questions.

Specific 'types' of farmers (e.g. 'innovative' farmers for topics that need further development, 'average' farmers for ready to use demo topics, young farmers or new entrants)

Gender, ensuring all the relevant representatives of the farm participate and feel welcome.

Often, but depending on what you want to achieve, it is beneficial to invite other actors to contribute to the impact of the demo event on the longer term:
Farm advisors can act as potential 'multipliers' of the key messages of the demo. They can spread and increase the demo content to non-participating farmers and they can connect farmers who applied a practice or innovation to those who are interested.

Agricultural press who can communicate the demonstrated topic to a wider audience.

Actors from the agri-food chain (e.g. suppliers, food processors, consumers…) are important partners in cooperative solutions and their presence can strengthen the links between producers and markets. They can contribute with data and experience from other areas.

Policy makers can raise awareness of policy barriers and incentives which might increase the anchoring and scaling of the demo content on one hand, but also learn themselves on the practical problems or barriers farmers are confronted with to improve policy regulation. On the other hand, farmers are often reluctant to participate and share experiences in a group when there are authorities present in the group.

(Agricultural) students and teachers can bring in research innovations, they can question the farmers on their ways of producing while learning about farming practices. They can help to carry out monitoring & evaluation, learn from co-organising and are good extra hands.


The presence of male and female host farmers encourages the participation of both male and female participants.