TOOLS FOR
DEMO EVENT DELIVERY
When delivering an on-farm demo event, specific learning methods and approaches can or should be used during the activities of on-farm demonstration events to reach the demo events objective. Good demonstration events aim for an increased interaction, peer learning and knowledge exchange amongst participants and between participants and demonstrators. We take into account 3 basic rules for the delivery of a demo event.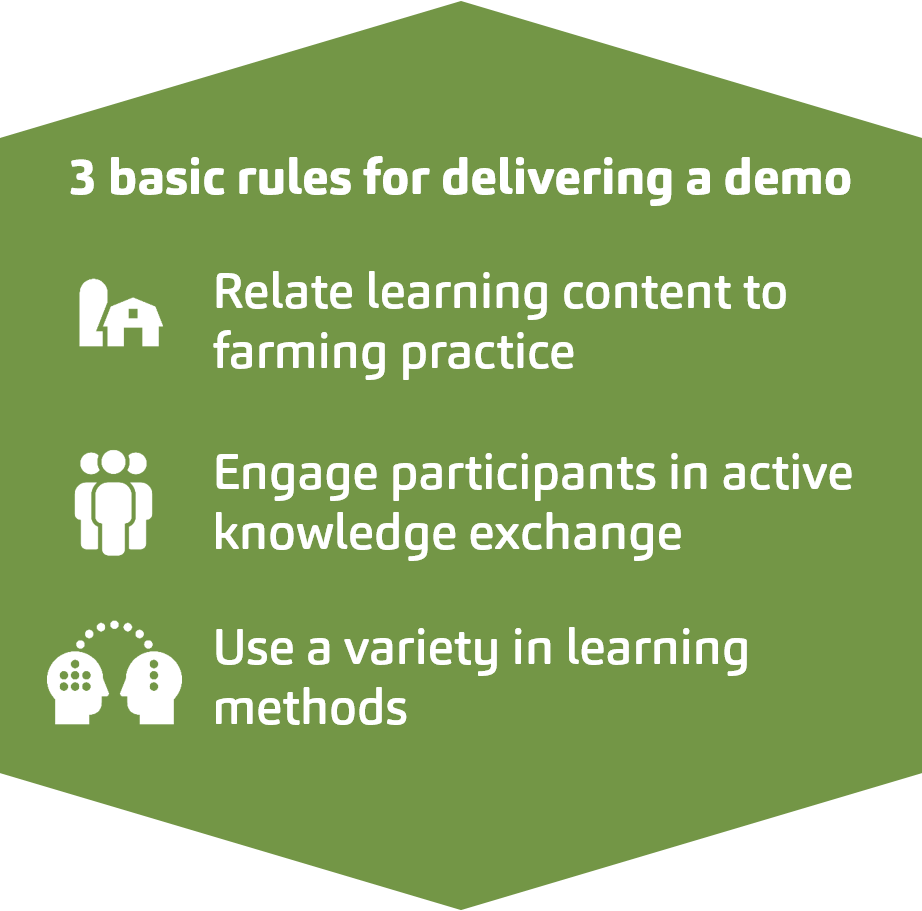 TOOLS FOR DEMO EVENT DELIVERY
Demo delivery tools can assist in the facilitation of knowledge exchange during the demonstration event.  The tools developed and used in the FarmDemo projects involve a tool to decide on which learning methods to use, guidelines for reflection on the demonstration with the participants, guidelines for a wrap-up session, guidelines for the facilitation of cross -visits with farmers across Europe.  They are available for download here.
Tools for participant registration
Use this template as a basis for your participant registration form. This template already includes an informed consent. So, when participants sign this document, they also agree with how the produced data from the demo event will be used by the organisation.
This is a template for a consent form, to be signed by participants. By signing this form they agree with the recording of the demo event on video and/or other recording devices.
Choosing the best learning methods
This table describes multiple types of learning methods, with their advantages, the aspects to take into account when using them and links to examples.
This presentation can be used as reminder for using a variaty in learning methods during your demo event, by taking into account the auditive, visual, tactile and reading senses of the participants.
Guidelines for group reflection with participants
This tool can be used to reflect in group on a demonstration they witnessed, by discussing both what was demonstrated and how it was demonstrated.
This tool can be used to conclude your demo event by summarizing the main findings together with the participants.
Guidelines for communication during the demo event
Use these guidelines to plan the communication before, during and after your demo event
Guidelines for cross visits in Europe
Get inspired by the NEFERTITI guidelines, if you want to organise a cross visit for knowledge exchange with participants from across Europe.
Watch this video on the cross visit methodology
Watch this example of a cross visit in Portugal